January 9th, 2008
I so want one of these!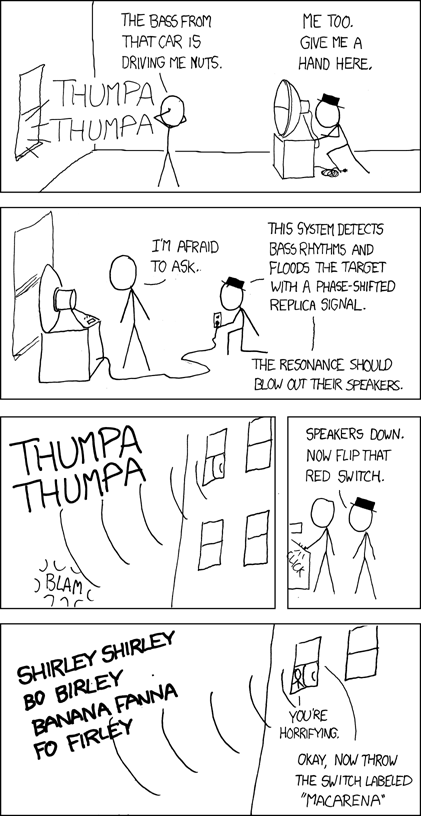 (Comic from xkcd)
Posted by Ken as General | Comments Off on Obnoxious Bass Eliminator
December 31st, 2007
Any email address posted on a web site as plain text or a mailto link will be harvested by spambots and added to lists of email addresses sold to spammers. This includes not only addresses on web pages, but also those in comments and forum discussions. The best way to prevent this is to set up a script on the server to obscure all email addresses site wide in a way that they are hidden from spam bots but still accessible to human users.
A simple solution is to encode the email address with html entities as explained on this encoder page. The danger with this simple solution is that it would not be difficult for spammers to create spambots that will look for and convert these encoded email address.
Roel Van Gils proposes a much more robust solution in Graceful E-Mail Obfuscation. He uses javascript to display email addresses to the human user since up to this point spambots don't support javascript. For the small percentage of users who have javascript disabled in their browsers, his method displays a page asking the user to answer a simple question before revealing the email address.
Now we just need someone to write a WordPress plugin implementing his solution. Urban Giraffe has a plugin that can be configured to use html entities or javascript, but it doesn't look like the second method provides a graceful solution for users who have javascript disabled.
April 24th, 2007
Common Craft has a new video on RSS in Plain English.
There are two types of Internet users, those that use RSS and those that don't. This video is for the people who could save time using RSS, but don't know where to start.
Now I need to add this to my other web sites, so that people will understand what RSS means. (HT: David Peralty)
Posted by Ken as General | Comments Off on Video: RSS in Plain English
March 28th, 2007
March 1st, 2007
I found this great video that demonstrates the evolution of Web 2.0 starting from handwriting.
(Sighted on Fiona's blog, Wordy.fi)
Posted by Ken as General | Comments Off on Understanding Web 2.0
December 8th, 2006
October 16th, 2006
April 17th, 2006
PC World Magazine has a list of 101 Fabulous Freebies. This is a list of some high quality, free software.
Posted by Ken as General | Comments Off on 101 Fabulous Freebies
February 27th, 2006
Both of my blogs were hit today by comment spam. I have now installed Spam Karma, so hopefully that won't be happening again. I have received a number of spam comments in the past, but they were all sent to moderation because they had more than 2 links. This one had only 1 link, and it showed up in about 10 posts.
January 28th, 2006
Well I upgraded this blog to WordPress 2.0. I mostly followed the excellent instructions on the WordPress Codex. Since my host used Fantastico, I wanted to have Frantastico do the install of 2.0, because that way it makes it very easy to do minor upgrades. After I deleted the wp-admin and wp-includes directories as instructed by the Codex, Fantastico reported that only manual upgrade was possible. But when I went to the WordPress section within Fantastico I had an option to upgrade to 2.0.
I had already downloaded the latest updates to my plugins, so when I reactivated them everything seemed to work fine. The only problem is that the spelling checker isnot available when using the wysiwyg editor.
Posted by Ken as General | Comments Off on Upgraded to WordPress 2.0