January 9th, 2008
I so want one of these!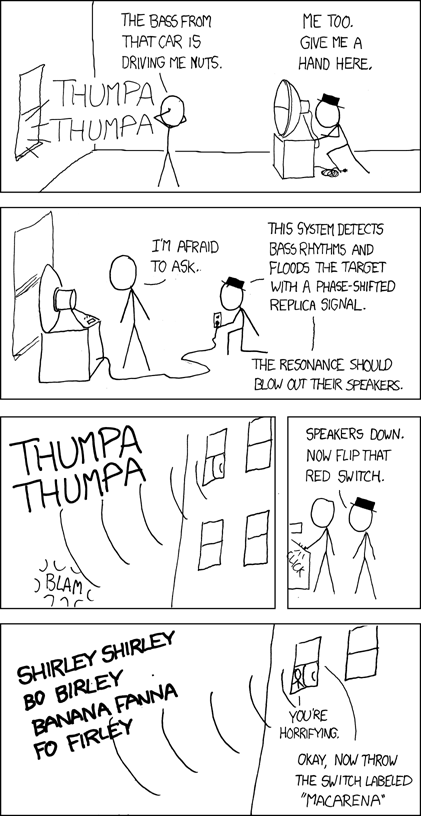 (Comic from xkcd)
Posted by Ken as General | Comments Off on Obnoxious Bass Eliminator
December 31st, 2007
Any email address posted on a web site as plain text or a mailto link will be harvested by spambots and added to lists of email addresses sold to spammers. This includes not only addresses on web pages, but also those in comments and forum discussions. The best way to prevent this is to set up a script on the server to obscure all email addresses site wide in a way that they are hidden from spam bots but still accessible to human users.
A simple solution is to encode the email address with html entities as explained on this encoder page. The danger with this simple solution is that it would not be difficult for spammers to create spambots that will look for and convert these encoded email address.
Roel Van Gils proposes a much more robust solution in Graceful E-Mail Obfuscation. He uses javascript to display email addresses to the human user since up to this point spambots don't support javascript. For the small percentage of users who have javascript disabled in their browsers, his method displays a page asking the user to answer a simple question before revealing the email address.
Now we just need someone to write a WordPress plugin implementing his solution. Urban Giraffe has a plugin that can be configured to use html entities or javascript, but it doesn't look like the second method provides a graceful solution for users who have javascript disabled.
December 22nd, 2007
There is an interesting discussion in WordPress Garage about whether or not WordPress can be considered a CMS (Content Management System). In the comments on this article, Miriam argues that WordPress compares favorably with both minimalist CMS systems that require a lot of custom coding, as well as full featured but complex CMS systems such as Joomla or Drupal. For many users, WordPress functions as an easy to use and highly customizable mid-level CMS system.
Posted by Ken as Wordpress | Comments Off on Is WordPress a CMS?
April 24th, 2007
Common Craft has a new video on RSS in Plain English.
There are two types of Internet users, those that use RSS and those that don't. This video is for the people who could save time using RSS, but don't know where to start.
Now I need to add this to my other web sites, so that people will understand what RSS means. (HT: David Peralty)
Posted by Ken as General | Comments Off on Video: RSS in Plain English
March 28th, 2007
March 1st, 2007
I found this great video that demonstrates the evolution of Web 2.0 starting from handwriting.
(Sighted on Fiona's blog, Wordy.fi)
Posted by Ken as General | Comments Off on Understanding Web 2.0
February 28th, 2007
Performancing has a good introduction to understanding RSS Feeds in Read the Feeds!. If you are perplexed by all the talk about "RSS," head over there for a good overview.
Posted by Ken as Blogging | Comments Off on Understanding RSS Feeds
December 14th, 2006
I've been learning about web design mainly by trial and error, and have gradually learned a few things that work. Jonathan Snook has a helpful overview on How I Design (HT: Bloggingpro). He gives these tips on how to emphasize what is important:
1. Make it bigger.
2. Make it closer to the top of the page.
3. Make it a different color.
4. Use a different font.
5. Give it breathing room.
The article also mentions the C.R.A.P. acronym for good web design. It stands for Contrast Repetition Alignment and Proximity. You can read more in the article How C.R.A.P is Your Site Design?
Now that I've read these two articles, I realize that there are quite a few things that I need to fix on my blogs. When I have some time.
Posted by Ken as Web Design | Comments Off on Tips on Web Design
December 8th, 2006
October 19th, 2006
I have been doing additional work on our church web site, and have been frustrated by the lack of support for user groups. For the members section of the site I would like to have a dedicated section for various co-worker groups and have their posts automatically show up in the right section.
Here's what I'd like to do:
Users can be members of one or more groups
Users can write posts only to categories owned by the group(s) to which they belong. If they are a member of only one group, their posts automatically show up in the right category.
Posts can (optionally) be restricted to be visible only to group members
All of this should work with both posts and pages
The purpose of this is to create a private space for various ministry teams and leaders to have their own discussion. Ideally, when they enter the site they would see a series of titles of the latest posts in the group(s) to which they belong.
WordPress does work pretty well as a CMS, as long as you give editing privileges to a small number of trusted people. But since they can post anywhere, you don't really want too many people working on it. Inevitably posts will show up in the wrong category, and pages will not be in the correct section. WordPress does not lend itself very well to managing people as groups. Existing plugins do not really meet this need. Two of the best are:
Viewlevel lets you restrict viewing of posts to users above a certain level. But it does not let you restrict which categories users can post to, nor does it let you create a number of separate groups at the same level. One advantage of viewlevel over the others is that it lets you restrict access to pages, not just posts. This is essential in a CMS application. I currently use viewlevel to restrict pages in the members section to logged in users. Viewlevel has not yet been updated to take advantage of WordPress capabilities.
Post restrictions uses role capabilities to control who can see which posts. This is a step in the right direction, but it does not restrict where you can post, and it presents the entire list of capabilities as choices for setting restrictions. This could be very confusing if there are a lot of people using the site. It would be must better to present only a list of user groups. It also does not work with pages.
It is possible to make use of roles and capabilities to create pseudo-user groups, but WordPress still lacks support for true user groups. For our public church web site this might be alright, since there are only a few people who really need to be authorized to make changes, but for the more collaborative environment that I would like to have in the members section I may need to consider another CMS package. Either that or hack together my own plugin based on the excellent work already done by others. When I have some spare time. Right.
Update: Here is a list of plugins that restrict posting/viewing in a number of ways.
Posted by Ken as Wordpress | Comments Off on WordPress as a CMS needs user groups